North Central Valley STEM Center
---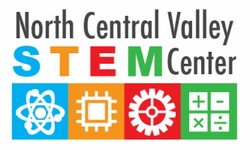 ​The North Central Valley STEM Center is a Regional Collaborative Partnership between area leaders in education, industry and businesses from throughout the Northern Central Valley and beyond. Our mission is to prepare our region to graduate the most STEM capable students. ​Please refer to our video below for more information.
---
---
Check out our promotional video!
---
​2020 North Central Valley STEM Center Awards
Nominations are now being accepted for the following teacher and student awards:
If you know of a worthy student or teacher nominee, please download and fill out or forward the attached application(s) to the appropriate person to do so. The application deadline has been extended to
June 20, 2020.
The teacher of the year award recipient will receive $1,000 and the CTE and STEM students of the year will each receive $500.
---
​Mini Grants for 2019-20
Update: In light of the current COVID-19 situation and the majority, if not all, of our region's schools closed mini grants applications for 2019-20 are no longer being accepted. It is anticipated that the application process will resume again for the 2020-21 school year.
​These mini grants are normally awarded up to $750 and can be been used for STEM-related field trips and other STEM-related classroom and school-wide projects. If interested, please fill out an
application
and submit it to Bret States
bstates@sjcoe.net
---

Congratulations to our 2018-2019 Award Recipients!

---

Albert Brocchini Memorial STEM Teacher of the Year - Kenneth "Scott" Myers, be.Tech Academy, Lathrop High School

​Mel Cardenas Memorial CTE Student of the Year - Asiah Scott, be.Tech Academy, Manteca Unified School District

STEM Student of the Year - Mykayla Ruiz, Lathrop High School




---

Advisory Board

Dean Reese, Science Coordinator, SJCOE
​Bret States, STEM Coordinator, SJCOE
Nora Hanna, Director
California Healthy Kids Resource Center (CHKRC), SJCOE
Danell Hepworth, San Joaquin Delta College Division Dean
Myles Harris, Allstate Insurance Agent
Jeene Villanueva, LLNL Computer Scientist/Expanding Your Horizons Co-Chair
Sandra Starr, AP Environmental Science and Biology Teacher/Nor Cal Science Festival Coordinator
Patricia Lopez, Diversity Coordinator, School of Engineering and Computer Science/Director, MESA Engineering Program (MEP)



---
Some of our current partners include: