North Central Valley STEM Center
---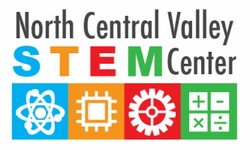 ​The North Central Valley STEM Center is a Regional Collaborative Partnership between area leaders in education, industry and businesses from throughout the Northern Central Valley and beyond. Our mission is to help our region prepare the nation's most STEM-capable graduates. ​Please refer to our video below for more information.
---
---
Check out our new promotional video!
---
Mini Grant Opportunity for STEM Educators for 2018-19
We are pleased to announce that due to the generosity of our donors, we are again offering mini grants for regional educators. These mini grants are a maximum of $750 per/teacher. Past approved proposals have been used for STEM field trips and STEM materials for area schools.
Click
here
to download the financial request form and contact
Bret States
for more information.
​
---

Congratulations to our 2017-2018 Award Recipients!

---

Albert Brocchini Memorial STEM Teacher of the Year - Dr. Larry Grimes, Sierra High School

Mel Cardenas Memorial CTE Student of the Year - Porter Wilder, be.tech Career High School, Manteca Unified School District

STEM Student of the Year - Nazim Hightower, Manteca High School

STEM Advocate of the Year - Randy Moehnke, Merril F. West High School




---

Executive Board

Bret States, STEM Coordinator, SJCOEKirk Brown, Director of STEM, SJCOEMichael Cardenas, National Security TechnologiesLaura Ochoa-Sanchez, San Joaquin Delta College Dean of Math, Science and Agriculture
Jim Hetrick,

University of the Pacific

Joanna Albala, Education Manager, LLNLNora Hana, Afterschool Programs Coordinator, SJCOE

---
Some of our current partners include: